Exciting news!
Tennis Foundation Partners with RMA Sport
RMA Sport has a new partner, the Tennis Foundation! Together, we have designed a cost-effective grass-roots tennis wheelchair for both youth and adults. If you buy via the Tennis Foundation you can receive a 10% discount (for more information please email info@tennisfoundation.org.uk).
We believe this new chair is a ground-breaking development in making wheelchair tennis more accessible. Read more about the launch of the new chair.
We are also delighted to have RMA Sport on board as our sponsor for the National Wheelchair Tennis Series in 2017, together we are looking at how we can encourage more players to get involved in tennis and compete as there is an option for everyone to play – from complete beginner upwards. Please see event details below.
RMA Sport National Wheelchair Tennis Series is for wheelchair tennis players of all abilities across Great Britain. The series of events is an excellent platform for players to socialise and compete.
There are a couple of ways to participate in the series, for players new to competition there is a Novice division. This category fosters a fun, supportive way to play competitively for the first time. Through the Main draw, players can gain points at each tournament according to their finishing position. Awards for the top-ranked male and female players in both Singles and Doubles will take place at the end of the year.
Every player competing in an event throughout the year will be eligible to enter the Finals Weekend, 8-10 December 2017. This weekend runs alongside the Wheelchair Nationals and is a celebration of wheelchair tennis in the United Kingdom. It is a fun, social weekend with activities and an annual awards dinner.
Future Dates & Locations
15-16 July: Liverpool Tennis Centre, Liverpool
11-12 August: The Shrewsbury Club, Shrewsbury
2-3 September: Lee Valley Hockey and Tennis Centre, Stratford
22-24 September: Belfast Indoor Tennis Centre, Belfast
7-8 October: Scotstoun Tennis Centre, Glasgow
8-10 December: The Shrewsbury Club, Shrewsbury
Tabitha Fung's Wheelchair Tennis Journey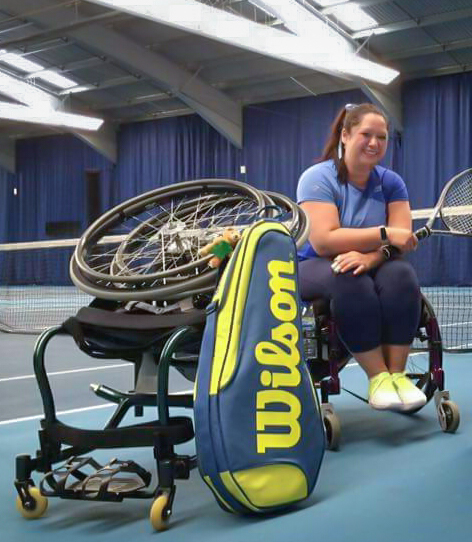 Tabitha Fung, wheelchair tennis player.
I started playing wheelchair tennis in the autumn of 2015. When tournaments started in spring 2016, with the encouragement from my tennis club where I train in Birmingham, and the support of the Tennis Foundation, I very quickly became addicted to competing in the National Wheelchair Tennis Series tournaments. Now in my second year of tournaments, my game has improved vastly; I have already won medals and awards. The Tennis Foundation are encouraging me to stretch my wings further this year by joining the main draw rather than stay in novice. I have tried this a couple of times and I'm reassured to know that if there is a particularly strong main draw, I am supported in dropping back to B draw (if there is one) or novice.
As a new player I remember how nervous I was at my first tournament but everyone was so friendly and welcoming. I encourage new players to enter the tournaments, take a push outside your comfort zone, it's amazing match experience and you get to meet a seriously amazing group of people who you will very quickly call friends.