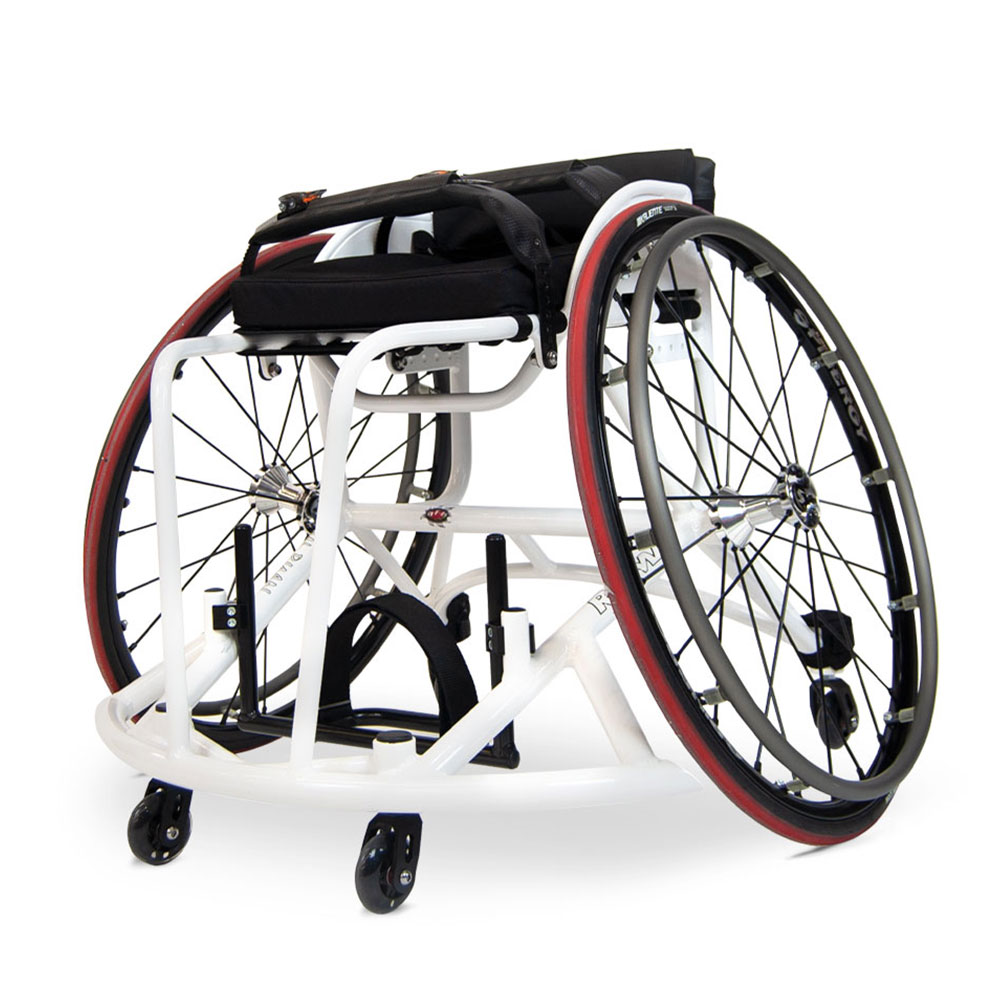 Made to Measure for Paul Ryan
Basketball Wheelchair
RMA Basketball Wheelchairs have been developed in consultation with numerous basketball athletes and clubs enabling us to manufacture a lightweight, highly manoeuvrable and responsive range of wheelchairs that allows the users to compete at the highest level.
RMA Sport has an extensive range of Basketball Wheelchairs from totally bespoke Made to Measure wheelchairs to a range of standard Club Basketball Wheelchairs to suit all levels of competition and different budgets.
Made-to-Measure Technical Specifications
24", 25" & 26" Spinergy Wheels.
Aircraft grade 7020 Aluminium.
Single or Double Anti-Tip Castors with Stepless Adjustment.
Integrated Offensive Wings.
Fixed Footrest with Calf Strap & Foot Strap.
Micro-Castor Forks.
Adjustable Tension Upholstery.
Patented Torsion Seat Plate.
Welded Side Guards.
Ratchet Straps.
Ergonomic Seat Cushion.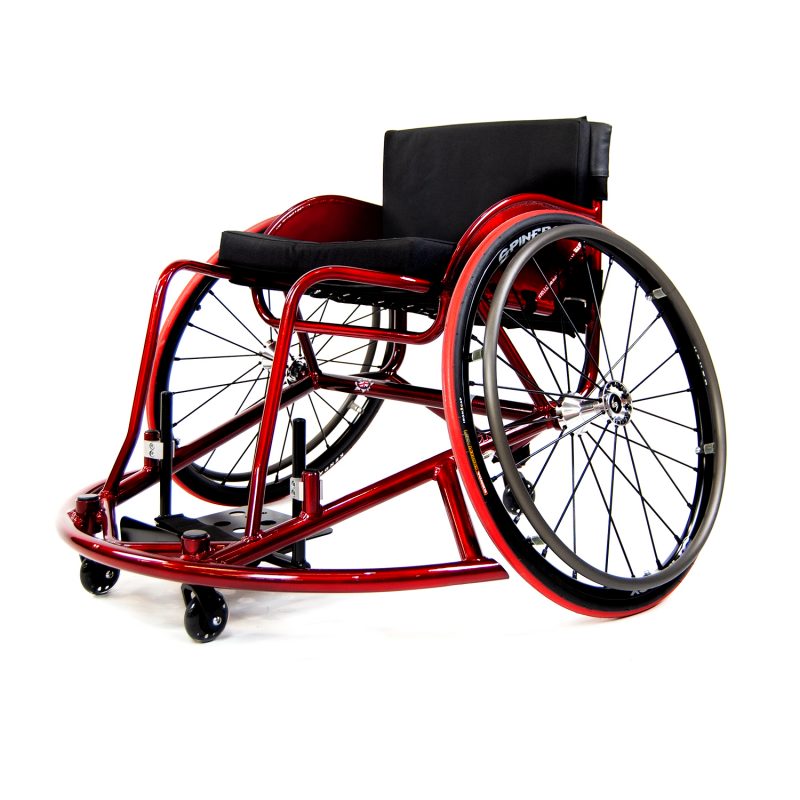 Club Chair Technical Specifications
24" Quick Release Sport Wheels
Robust Steel Frame
Single Adjustable Anti-Tip Castor
Available in 3 Seat widths 360mm, 410mm & 460mm
Adjustable Upholstery
Adjustable Axle Position
In Partnership with: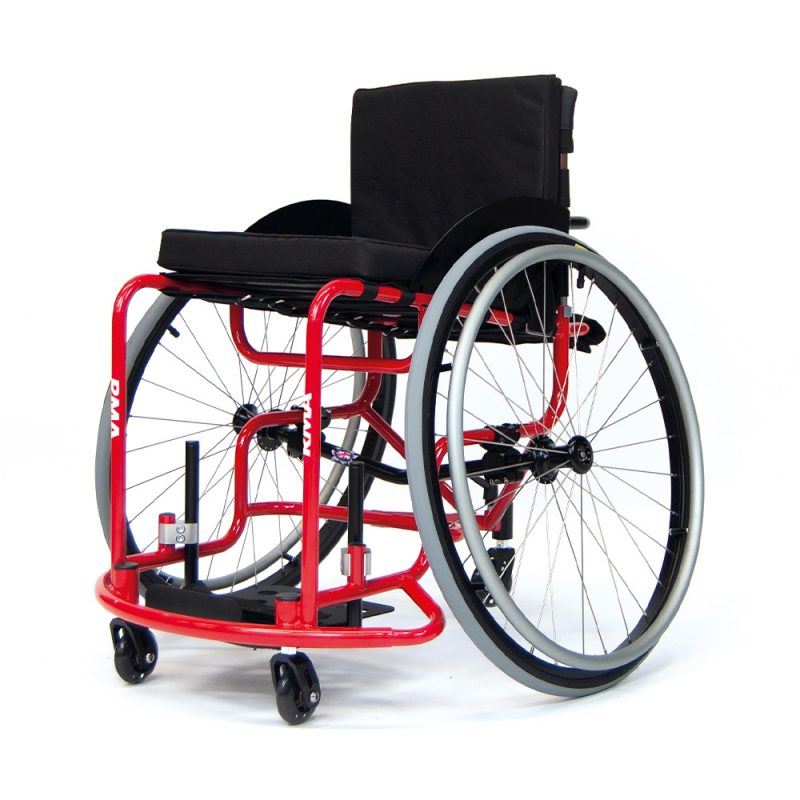 Made to Measure
The Contour Body Mapping® device/system replaces the tape measure, eliminating human error of incorrect recording and interpretation. And, with moving components, you can experience how your chair will perform before the first piece of metal is cut.

Contour Body Mapping
Our Patented Contour Body Mapping® machine is a one of a kind innovation that calculates your body measurements to within two decimal points.

First Fitting Session
The first fit allows you to be measured for your chair and in the process understand how it will feel. Your chair is built around you so you can assess the level of comfort and support you can expect when your chair is completed.

Second Fitting Session
The second fitting is a RMA Sport standard for all made to measure products. A second fit allows you test your chair while it is tack welded to make any minor adjustments before completion.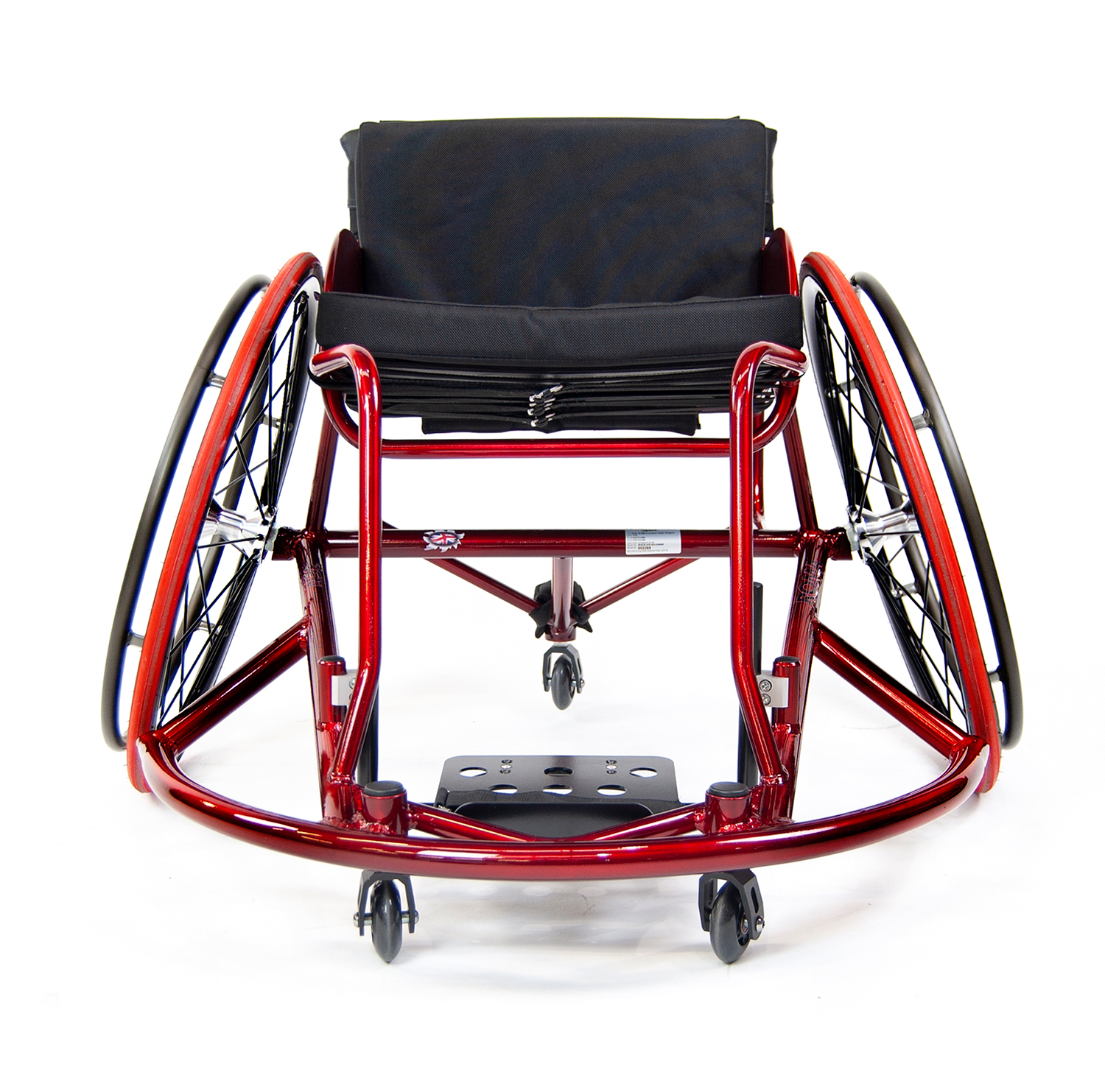 RMA Basketball Wheelchairs
Using the same principles and technology as our rugby range, we have developed a lightweight, highly maneuverable and responsive range of Basketball Wheelchairs. We manufacture chairs for all levels of the game from grassroots to professional, to the same rigorous standards.
Within the Basketball range – there is a choice of Elite Pro, Pro and Club chairs.
These can be purchased as made to measure, which involves utilising our patented Contour Body Mapping fitting process, that allows us to take measurements to within two decimal points of a persons optimum seating position – or we can build Club chairs that can be used within a team environment, this can be achieved through selecting from a series of standard size options.

Elite Pro Basketball
Using our patented Contour Body Mapping measuring system we are able to manufacture a totally bespoke, top of the range, Elite Pro Made to Measure wheelchair.
Elite Pro chairs have the added advantage of the athlete having a second fit to ensure the wheelchair fully meets the athlete's specification and expectations. All Elite Pro wheelchairs are supplied with Spinergy Wheels as standard.

Pro Basketball
For athletes unable to use this service we also offer a Pro Made to Measure, where we manufacture the chair to the athlete's specifications, supplied on a prescription form.
As with the Elite pro model, Spinergy wheels are supplied as standard.

Club Basketball
The RMA Sport Club basketball wheelchairs are some of the most cost-effective basketball wheelchairs available on the market.
Our steel range, in partnership with British Wheelchair Basketball, comes in 3 standard seat sizes, 14″, 16″, and, 18″ seat widths. Each size comes in a unique colour to represent the seat width size.
Every steel frame club basketball wheelchair comes equipped with 24″ quick release sport wheels, an adjustable footplate, single adjustable anti-tipper, adjustable upholstery and, the ability to adjust the position of your axle.
Get in Touch...
Just fill in the form below and one of our team will be in touch with you.
RMA Sport Privacy Policy
RMA Sport respects your privacy. Your personal details will be kept confidential and will only be used to send you information on RMA Sport products and services we offer. In accordance with the Data Protection Act, we require your consent by submitting your details in order to hold your personal details within our systems. Your details will not be passed on or given to anyone by RMA Sport without your explicit permission. All employees who have access to your information or are associated with the handling of that data are legally obliged to respect your confidentiality. If you would like to see the information we hold about you or would like to be removed from any of our mailing lists, please contact our marketing department at RMA Sport York Road, Bridgend Industrial Estate, Bridgend, CF31 3TB, United Kingdom or email us at sales@rmasport.com.
You can read our full RMA Sport Privacy Policy here.