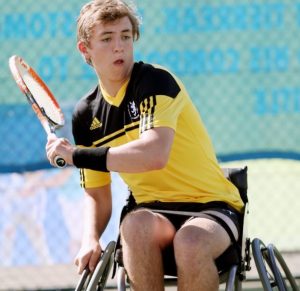 Ben Johnson-Rolfe won the main draw singles title at Taunton Wheelchair Tennis Tournament over the weekend. The 18-year-old was among the latest players to add their names to the RMA Sport National Wheelchair Tennis Series roll of honour.
A finalist in Loughborough at the first National Series event of 2017, Johnson-Rolfe bowed at the Warwick and Grantham tournaments in the quarter-finals. On both occasions, he lost out to Philip Fielding, but Johnson-Rolfe turned the tables on top seed Fielding in Taunton, edging their semi-final 6-3, 3-6, (10-6).
With Punga having beaten second seed Steve Compton in the quarter-finals, the sequence of close finishes continued in the final. Johnson-Rolfe claims another highly competitive contest 7-6, 1-6, (10-6) for his best result of 2017 so far.
Fielding and Punga joined Johnson-Rolfe and Crompton in reaching the main draw doubles final with relative ease. However, this time it was Fielding and Punga that came out on top. They gained the all-important breaks of serve to win 7-5, 6-4.
Making her tournament debut in a borrowed tennis chair, Fay Dutfield-Horton, won the novice singles title. Dutfield-Horton said of the win: "As an Empowerment Coach, this win has given me the confidence in my own development as a player as well as supporting other to achieve their goals."
Four of the six matches in the first two rounds ended in 6-0 victories. Kevin Lewis earned back-to-back 6-0 wins as he booked his place in the final. Meanwhile, Dutfield-Horton also won her semi-final against Tabitha Fung without dropping a game. However, the final proved to be an entirely different contest, Dutfield-Horton eventually emerging as the victor 7-5, 7-6(4).
Alexander de Styrcea and Fung took the honours in the novice doubles, winning both their matches in straight sets. That included a 6-0, 6-0 win over runners-up Wendy Tighe and William Johnson.
With Johnson-Rolfe, who represented Great Britain at the 2016 World Team Cup, winning the main draw singles, the junior singles in Taunton went to another player to recently making his international debut for his country. Fourteen-year-old Alex Chaston collected a 4-0 win, three 4-1 wins and a 4-2 victory to remain unbeaten in his five round-robin contests.
The next RMA Sport National Wheelchair Tennis Series event takes place at Gosling Sports Park on 17-18 June 2017.